TaxMan123.com
United States of America IRS Tax Information
TAX BLOG
When Roger has some spare time, he posts here. Good articles!
LINK TO BLOG HOME PAGE
Biggest Tax Fraud in History
This is what the prosecution is calling it.

Tens of millions of dollars in money gone in a tax fraud scheme that was designed to support the massive income of very wealthy people.
Donna Guerin - 52 years old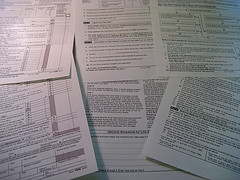 A lawyer from Chicago was the partnered attorney with the company of Jenkins & Gilchrist that helped to put together the plans and methods to scam the IRS out of the money.
She pleaded guilty in a trial on this case recently.
The scams were in action from 1994 to 2004.
They helped save tax payments for the likes of the wealthy grandson of Armand Hammer, an early investor in Microsoft, sport aficionado Lamar Hunt as well as other wealthy folks.
The prosecution
Made statements that some of the tax shelters produced over $6 billion in fake losses for tax purposes saving clients 10's of millions in tax payments.
A particular scam involved $3.9 billion in phony tax losses to more than 500 wealthy folks.
Due to a bad person being on the jury there will be a retrial.

Guerin herself is awaiting another trial.
The head guy in the plan for tax scams, Paul M. Daugerdas, of Wilmette, Ill. and Denis M. Field, of Naples, Fla., former CEO from BDO Seidman are also headed for trial in this case.
There is no date yet planned for the retrial.