This 2014 monthly calendar
This beauty calendar has both customary and the federal dates.

It is 13 pages long as it has a nice cover page with a photo of the site of the former area where the Woodstock stage was in a photo taken in 2012.
The stage where a half a million people saw the greatest bands of the day was where the grass is a gray color with gravel just to the right of the center of the image.
It is a free PDF file calendar and can very easily be printed from the link shown below.

This free calendar is a horizontal 2014 monthly paged 8 1/2" X 11 " calendar.

2014 will bring some fun holidays and a break from work for many of us.
There is a list below and a print link to the 2013 calendar.

Here it is the free 2014 Monthly Calendar with holidays in a wonderful printable .PDF file, that you can easily download here.

This calendar starts with January 2014 - through December 2014.

Calendar Cover
Here is a smaller image of the true calendar cover.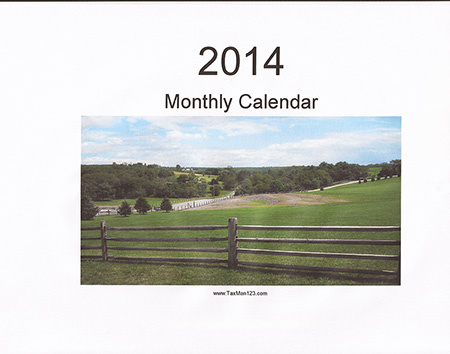 If you need a 2011 calendar here it is.

If you need a 2012 calendar here it is.
If you need a 2013 calendar here it is.